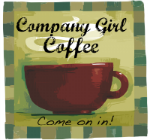 I must admit to joining in the chat with a cup of tea, instead of coffee. My time to write comes in the afternoon and my coffee is usually a morning thing. So I have filled one of my favorite teapots with vanilla tea.
While the bread is rising, I will write for a few minutes. After the loaves are formed and rising again, I will curl up in my favorite corner on the loveseat in the bay window with my new "Victoria" magazine and my teacup and enjoy a few quiet minutes while the boys nap.
I just finished reading "Persuasion" and started "Lady Susan", another Jane Austen story. It is cleverly written though I doubt of it ever being made into a film as it is shorter and written entirely as letters. It is fun though.
I was able to finish up some sewing this morning with still more to do. Nothing exciting, or pretty, just stuff that needs to be done. I prefer craft sewing and being creative to shortening sleeves and sewing covers for machines.
I am buried under laundry today. I usually do it twice a week, but somehow got off schedule and have a lot to do. It's not the most exciting thing, but so necessary.
I went through a tub of old maternity clothes and sorted through them. I'll need to have Sweetheart get the other tubs out this weekend. I was blessed with several bags of clothes last time and some I never needed. It's time to pass the ones I won't wear onto someone else. I am sort of all over the place with clothes right now as the maternity things are swallowing me up and the regular clothes getting snug. It is what it is. And it is a blessing.
It's been a cold, quiet week here in Colorado. Several inches of snow fell yesterday and through the night. It is lovely, but unwanted. More snow is forecast. But snow, or not, Sweetheart and I have reservations for lunch at a tearoom across town.
I am excited for some time with him. We are planning to visit a few of the shops nearby featured in the last "Victoria". Their sizes would not permit a stroller and I would find it difficult to just have the boys roaming free. They are well-behaved, but they are curious and only two and four after all.
Otherwise, we have no real plans for the weekend, but to be together and stay warm. Hope you are all having a wonderful Friday! What do you have planned for the weekend?